Baxter Employees Help Improve Health and Nutrition of Yi Children in Liangshan
As part of Baxter China's annual Making a Meaningful Difference Month initiative, which encourages employees to showcase their commitment to engaging in the communities where they live and work, 12 Baxter colleagues recently visited Naituo village in Liangshan Yi Autonomous Regions, located in the high altitude mountains in the southern extremity of Sichuan Province in southwest China, to provide health and nutrition education for more than 200 Yi – an ethnic minority group in China – children.
Baxter employees have been working with Humana People to People, an organization that helps impoverished countries on their health, education and sustainable rural livelihood development – to serve community health needs since 2011. This year, Baxter and the Baxter International Foundation provided more than $89,000 to help launch the Liangshan Yi-minority Children Community Health Project. The initiative works to improve over 200 local Yi children's nutritional status, and heighten communities' awareness of health, nutrition and hygiene.
"Due to the long winter and harsh climate, only a limited variety of crops is suitable to grow in Liangshan, which very often results in poor nutrition and developmental delay in the local villagers," Michael Hermann, representative of Humana People to People to China, said. "As a result, improving children's nutritional status by teaching families to raise egg-laying chickens and to grow various types of vegetables and by cultivating their health awareness and advocating for new habits to promote healthy growth has become a priority for our organization."
The children's smile lit up a spot in my heart when we were leading healthcare awareness sessions. Helping improve healthcare accessibility is important to me, and I hope we can continue to do more.

Alison Liu, an employee at Baxter's Suzhou R&D center
In addition to health checks, the community health project establishes self-help groups in the community that regularly engage in workshops on child nutrition, health and hygiene, and facilitates training workshops for village doctors. Outreach coordinators also work closely with the maternal-child health clinics and local center for disease control to help build up the capacity of their respective health system.
During this year's employee site visit, working with local doctors and other villagers, Baxter employees shared a guide to hand washing and teeth brushing, and applied sodium fluoride to children's teeth for protection. Employees provided donated toothbrushes, toothpaste, soaps and other hygienic necessities collected before their visit. Two employees with medical backgrounds also engaged in an educational session with village doctors at the local hospital to share background knowledge on children's healthcare.
Driven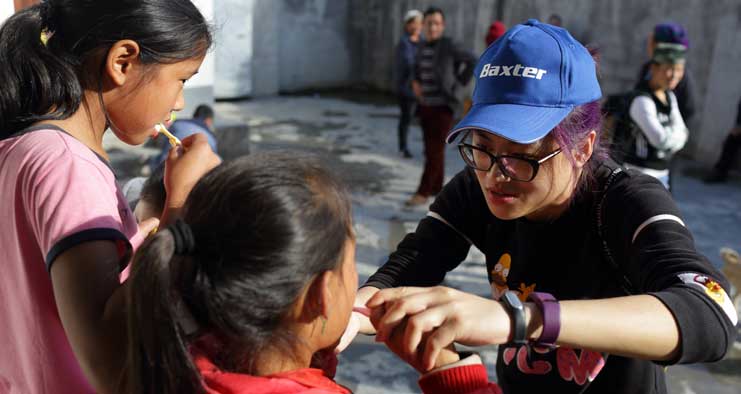 by the poor nutrition and developmental delay of the children, Alison Liu, an employee at Baxter's Suzhou R&D center, decided to help.
"The children's smile lit up a spot in my heart when we were leading healthcare awareness sessions," she said. "Helping improve healthcare accessibility is important to me, and I hope we can continue to do more."