PRISMAFLEX System for Critical Care
PRISMAFLEX System for Critical Care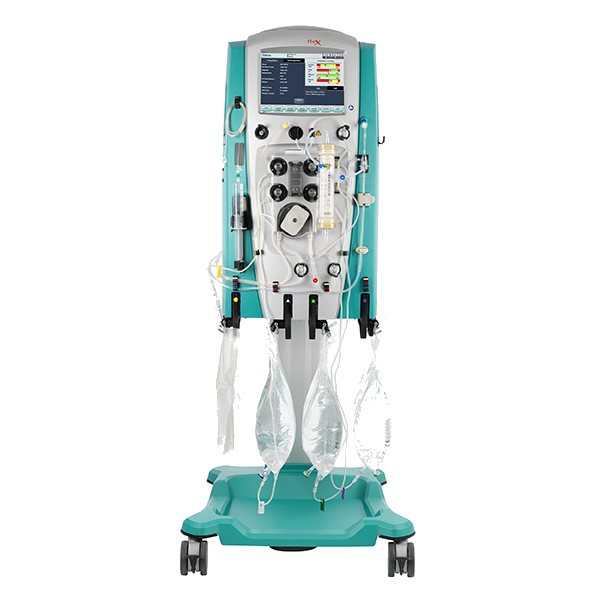 The innovative PRISMAFLEX System is designed to support the recovery of critically ill patients with acute kidney injury (AKI).
The flexible system meets the demands of multiple therapies with a versatile platform that can be customized to specific patient needs.
As no two patients are the same, it also allows for individual patient care. Unlike intermittent hemodialysis (IHD) or slow low efficiency dialysis (SLED), the PRISMAFLEX control unit is designed to deliver continuous renal replacement therapy (CRRT) for a 24-hour period for:
Metabolic control
Fluid removal
Acid/base control
Electrolyte balance
When time is precious, PRISMAFLEX can also help by providing automatic adjustments and immediate visual feedback about the treatment. With this system, you can spend your time delivering optimal care by focusing on the patient and not the equipment.
One Platform, Multiple Therapies

The PRISMAFLEX System delivers all therapy modalities of CRRT and therapeutic plasma exchange (TPE) without additional equipment, including: 
CVVHDF – Continuous Veno-Venous Hemodiafiltration
CVVHD – Continuous Veno-Venous Hemodialysis
CVVH – Continuous Veno-Venous Hemofiltration
SCUF – Slow Continuous Ultrafiltration
TPE – Therapeutic Plasma Exchange
Safety Focused

​The PRISMAFLEX System's fluid algorithms help balance patient chemistry with fluid removal for optimal therapy delivery. Clinicians can monitor how much therapy the patient is receiving within 7 mL of fluid accuracy, at any given time.
Integrated Electronic Medical Records (EMR) Connectivity

The EMR connectivity of the PRISMAFLEX System promotes improved clinician workflow by helping to reduce manual documentation. The PRISMAFLEX System integrates conveniently with most hospital EMR systems, either directly or through a third party; eliminates manual recording and transfer of treatment data; and enables treatment data download.
Intended Use Information
The PRISMAFLEX system should be restricted to patients with a body weight greater than 20 kg (44 lb). 
The PRISMAFLEX system is intended for:
Continuous therapies – CVVHDF, CVVHD, CVVH, SCUF
Plasma therapies – TPE
Rx Only. For the devices mentioned herein, please refer to the appropriate Operator's Manual.