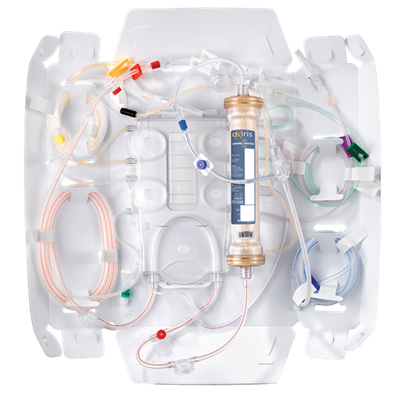 The oXiris blood purification set is the only 3-in-1 set for continuous renal replacement therapy (CRRT)-sepsis management to help simplify multiple treatment challenges for critically ill patients. 
The needs of patients in the Intensive Care Unit (ICU) are often complicated. With the extended indication for removal of various inflammatory mediators, the oXiris set is designed to combine three functionalities in a single device: endotoxin removal, cytokine removal, and fluid/uremic toxin removal on PRISMAFLEX and PRISMAX systems.
The oXiris blood purification set adsorbs endotoxin, cytokines and uremic toxins. Excessive inflammatory toxins are frequently seen in patients with sepsis.1  The oXiris set combines the removal of inflammatory mediators and may help modulate the body's inflammatory response to infection. 2,3
The oXiris set has a unique, proprietary three-layer membrane structure:
The base AN69 membrane enables absorption of cytokines and toxins while providing efficient renal support by diffusion and convection.
The PEI (polyethyleneimine) surface treatment allows for the adsorption of endotoxins while the removal of fluid and toxins (CRRT) occurs throughout the entire membrane.
The heparin graft on the membrane reduces membrane thrombogenicity and is designed to minimize treatment interruptions while supporting adequate dialysis dose delivery.4-6
Sepsis is a major and growing global healthcare challenge, with up to 40% of ICU patients affected by the condition.7-9 The use of oXiris to adsorb cytokines and endotoxins from the blood and perform CRRT therapy on the PRISMAFLEX and PRISMAX systems represents a promising approach to treating patients requiring CRRT-Sepsis Management.
Rx Only. For safe and proper use of products mentioned herein, please see appropriate Operators Manual or Instructions for Use.