Baxter Recognized as One of the 100 Best Corporate Citizenship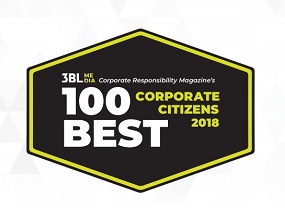 Baxter has just been recognized as one of this year's 100 Best Corporate Citizens by Corporate Responsibility Magazine. We're honored to be cited.
Baxter's commitment to responsible citizenship is inseparable from our core mission to save and sustain lives. We want our patients, communities and full range of stakeholders to thrive, and that can only happen through responsible practices that create lasting social, environmental and economic value. Whether we're focused on expanding access to quality care, reducing our carbon footprint, or volunteering at a local not-for-profit, our goal is to make a meaningful difference through our operations and actions as a healthcare leader.
All the credit belongs to our 47,000 employees worldwide, who are constantly inspired to think bigger and reach higher on behalf of the stakeholders who rely on us. Their dedication is what fuels our impact every day.
—Joe Almeida, Chairman and CEO